Welcome to Maureen Walton Murals
Maureen Walton is a muralist in the Toronto area who paints colorful and expressive murals.  She has painted murals for schools, businesses, museums, senior homes and children's rooms.  As an artist for hire, Maureen blends her experience of painting and teaching to create beautiful, customized murals that display a unique story.  Specializing in school murals for over 14 years, Maureen has been displaying her work in Toronto, Hastings County,and with the Algonquin Catholic school board. Her healing and uplifting murals are a visual story co – created with you.
Whether you're interested in a mural for a private home or for a larger community space, the work created by Maureen Walton Murals will distinguish any room or outside space. Peruse the site to see examples of the murals Maureen has painted, and feel free to contact her at 1-613-396-3262 with any questions or inquiries. Maureen can help you put your ideas and visions into a stunning art form.

In September 2012 Maureen will begin painting in 5 Kingston elementary schools. She was awarded a $5000 Ontario Arts Council Grant this summer. Thanks to Shawn MacDonald ,of the Algonquin & Limestone Catholic School Board, for his support.
Some Prominent Commissions
E-Bay, Younge & Eglinton, Head Office, Toronto
Loyalist College, Belleville, Aboriginal Resource Center
Quinte Mohawk Federal School, Tyendinaga
Toronto Public School Board
Hastings Public School Board
Limestone & Algonquin Public & Catholic School Boards
McLaughlin Woodworking Museum
Kingston Museum of Health
Parrott Long Term Care, Napanee
Heritage Seniors Home, (Cookstown) Oakville
Quinte Conservation Authority, Belleville
Education Dept. Head Office, Belleville
Dentists Office, Dr Madison, Belleville
College Promenade, Business Community, Toronto

I use entirely NON TOXIC house paints called Mythic. Mythic paints have newly invented synthetic colorants (tints) as well as safe solvents in their paints. They have been around 15 years on the market. In most "safe" paints sold,the base only is non toxic. Colorants have always been made from minerals & ores etc..but now Mythic has matched the beauty of Lapis Lazulu, Ochre, Rose Madder, & all those exquisite pure colours.  Often, natural materials are safer, but in the case of colorants, most rock minerals are highly toxic. Using safe paints is key for me while working in schools, senior homes, museums & other public spaces. Murals can be interior or exterior, painted directly on walls or on specially designed boards to be professionally installed. My fees are approximately $12.00 to $15.00 per sq.ft. This depends on the complexity of the project.
Maureen's studio home is in  Hastings County, which extends as far as Algonquin Park and is home to one of the larger crystal beds in Canada. The area is the meeting place of limestone in the south and the granite, of the Canadian Shield, in the north. I t is also the home of the Mohawks of Tyendinaga, who have collaborated with Maureen on many occasions as she has with them. Tucked away in her little magical corner of this large County Maureen welcomes you.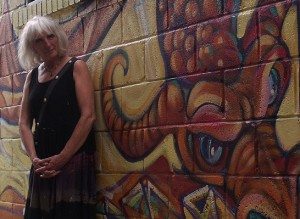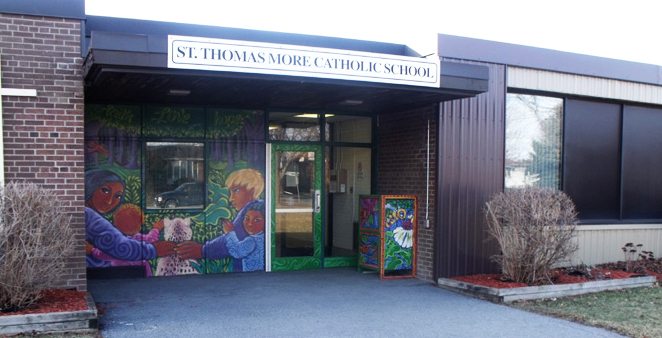 Maureen is offering to share her studio home with a visiting artist. see poster.
I have been offering wall murals in the Toronto ON area for several years.  If you are looking for a mural artist that offers hand painted murals as well as custom building murals in Toronto ON, then you have come to the right place.