SCHEDULE 2017
DARK LODGE
 EVERY NEW MOON- LED BY MAUREEN WALTON- 7PM TO 10PM- BY DONATION
*******************
FOSTER MOTHERING
(an ancient global tradition) YOUR GUIDE IS KAREN HOLMES with Maureen Walton  SAT. FROM 4:00 PM MARCH 25,  TO SUN. 4:00PM 26TH OF MARCH. – COST $250
********************
LANDS OF MILK & HONEY
(mysteries from Ireland) YOUR GUIDE IS KAREN HOLMES-with Maureen Walton  SAT. FROM 2:00PM APRIL 29,   TO  SUN. 4:OOPM, APRIL 30 –COST  $250
***********************
KUNDALINI YOGA
 YOUR TEACHER IS ELA BEILSKI  SAT. FROM 3:00PM  MAY 27,  TO SUN.4:00PM MAY 28 –  COST $180
**********************
WOMB MYSTERIES
(secrets of parthenogenesis) YOUR GUIDE IS DEN POITRAS, with Maureen Walton FRI. FROM 6;PM JUNE 2, TO SUN. 5:00PM JUNE 4 COST $300
sliding scale arrangements available 
*************************
PLANT SPIRIT COMMUNICATION
 YOUR GUIDE IS DANIELE KREPS- FRI.FROM 10:00AM JUNE 9, TO SUN. 3:00PM JUNE 11. COST $350
************************
THE HIBERNIAN MYSTERIES
(a story of the forming of earth & human consciousness in the northern hemisphere- purifying the Soul for Creative endeavours) YOUR GUIDE IS KAREN HOLMES, Sat. from 1:00pm.June 17 to  Sun. 5:00pm. June 18
**************************
SEVEN WAVES WOMB DANCE & EASTERN MUSIC
 YOUR TEACHER IS ROULA SAID – SAT FROM 1:00PM JULY 15 TO SUN. 5:00PM Sept. 16 & 17  COST $250                                                                
**************************
 Reclaiming the Holy Womb Power
and the Female Mystery of the Pleiades
 YOUR TEACHER IS DR.MARGUERITE RIGOGLIOSO,IN COLABORATION WITH MAUREEN WALTON –  FRI. AUGUST 4 FROM 6:00PM  TO SUN. AUGUST 6 AT 5PM  COST $330
**************************************************
To register contact Maureen at mwm@kos.net. Please send a $100 deposit via e-transfer, or cheque by mail, 10 days before the retreat begins. Feel free to call Maureen at 1 613 396 3262 for details.
Retreats include catered vegetarian meals by "Edgar"  Sleeping is communal, we offer tenting,"yurting"or indoor sleeping. BYO sleeping bag and pillow.
******************************************************************
Wyldwood Sojourn is a sanctuary for seekers to deepen their experiences and ensoul themselves once more in the powerful Inner Feminine gifts of manifestation and creation.
Maureen Walton offers this space to teachers(men & women) of all disciplines within this area of expertise .The teacher may bring up to 12 students.

We celebrate Natures Cycles. Here is a place to give back to the earth, to listen to her messages and to honor the beauty of the Darkness as Divine.
Wyldwood Sojourn is filled with the artist's murals, sculptures & paintings to create a peaceful, uplifting environment and support your awakening. All contents are hand crafted & of wood, glass, clay,wool or cotton.(no off gassing synthetic materials). The studio/home is a passive solar dwelling, located on two wooded acres with a seasonal waterfall. Two authentic Mongolian Yurts nestle in the woods. One is used soley as a Dark lodge sanctuary and the other for sleeping and workshop space. W.S. offers, for use to its guests, 2 studios, a kitchen, 2 bathrooms and an outdoor dining tent. W.S. is proud of its new solar run art studio and its tankless hot water system. A solo steam sauna is also a new addition.  Aputi is our sweet black feline.
***************************************************************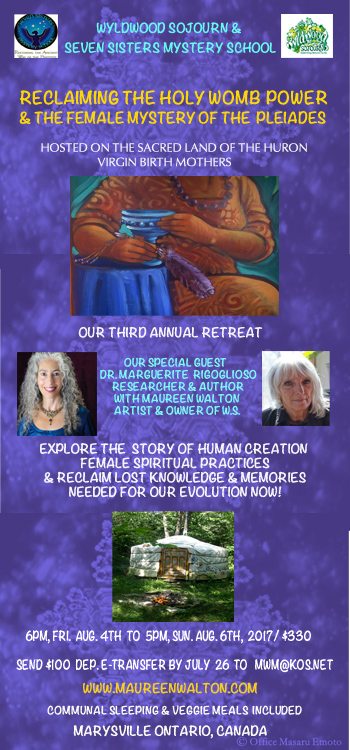 A PRIVATE READING AT WYLDWOOD WITH MARGUERITE FROM SEVEN SISTERS MYSTERY SCHOOL!
Marguerite will be offering a limited number of her wonderful private clairvoyant readings IN PERSON at Wyldwood, on Fri Aug 4 (before the retreat starts) and Mon Aug 7 (the day after the retreat). She's offering a very special price for her readings while she's with us of $160 Canadian (usually $200 US!!) so you will want to secure yours immediately by purchasing at this link:
http://www.mcssl.com/SecureCart/SecureCart.aspx?mid=A3CF2657-CBEE-4667-BF8E-0253CF63E84D&pid=7ad59ec3a8a94fdbbc4dd0aa2c760bb8
Once your purchase goes through, you'll be sent the calendar link with the available times to book yours. Women from our area who have had readings with her in years past have found them to be amazingly healing, empowering, validating, and clarifying, so if you are thinking about it, don't hesitate! To find out more about what a private session with Marguerite offers you, visit;
http://www.sevensistersmysteryschool.com/mentoring/single-mentoring-sessions/
This summer at Wyldwood Sojourn in Ontario Canada

We have a few spaces left for you! Please send your $100 deposit by July 20th.
Friday August 4th at 5:00pm to                 Sunday August 6th at 5:00pm
Time to step up and make the changes needed in our lives and learn about our lost feminine spiritual practices. 
                                    RECLAIMING THE HOLY WOMB POWER
                            AND THE FEMALE MYSTERY OF THE PLEIADES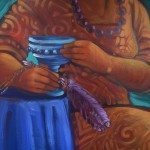 A Weekend Retreat with
Dr. Marguerite Rigoglioso
and Artist Maureen Walton.
Marguerite is flying all the way from San Fransisco to bring us first hand these timely and life changing feminine truths, long hidden.Take advantage of this opportunity. Join us!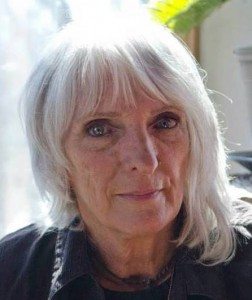 *******************************
AS A WONDERFUL SURPRISE MARGUERITE COMES TO WYLDWOOD THIS YEAR AS A NEWLY CERTIFIED HOLY WOMB CHAKRA TEACHER! 
Marguerite and Maureen honour their mutual teacher Cindy Lindsay who's Womb Wisdom work has continued to influence Wyldwood Sojourn since 2010.
Together we will be better able to express this long forgotten Feminine Tradition.
***
We'll GET DOWN into the Womb & RISE UP to the Stars like never before as we also hear ancient earth history of the 7 Sisters of the Pleiades as the original 7 Womb Mothers of Humanity.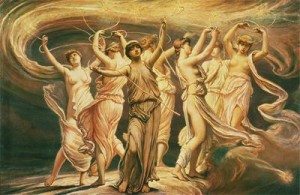 Explore their story of Virgin Birth, Human Creation & Female Spiritual Mysteries, reclaiming memories & knowledge needed for our evolution NOW!
*
Access the female star wisdom of your womb, lie under the night sky and comune with your galactic family accompanied by live cello music.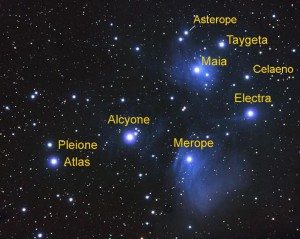 Tap into the energies of this land were Virgin Birth was a living tradition 1000 years ago. A place were a powerful shamanic woman self concieved a great peacemaker, here on Tyendinaga Territory.
It is not by chance that Marguerite and Maureen teach the womb mysteries in this sacred land of the Huron Peacemakers.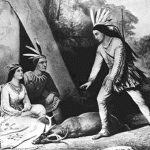 Deepen and make sacred your listening and creative abilities, with the Inca meditation joining heart and womb in the Dark Lodge. In the Gossipi River allow your self to release and make space for receiving more wisdom.  Learn womb pressure points and more.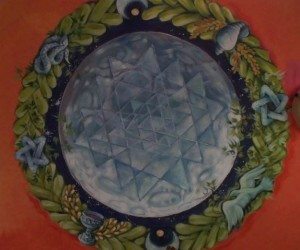 Work with clay to imprint your feelings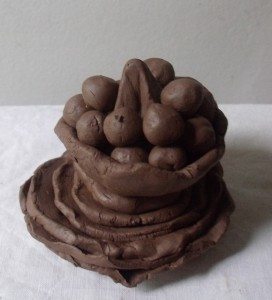 *
Make yourself at home. Hidden in two wooded acres is our moon lodge, cosmic lodge and studio home, a safe sanctuary to learn and listen to the voice of our Mother.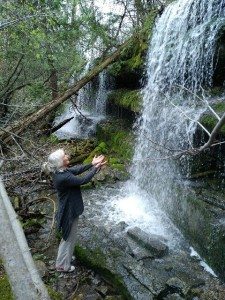 Maureen at Wyldwood in spring.
***************************************
Send you $100 deposit to Maureen by July 20 and bring the balance of $230 upon your arrival at Wyldwood Sojourn
Beautiful vegan and vegetarian meals served and included.
contact Maureen at: mwm@kos.net
THIS SPRING 2017 AT WYLDWOOD SOJOURN

***************************************************************
INTRODUCING OUR NEW GUIDE AND TEACHER KAREN HOLMES MREd.
THE HIBERNIAN MYSTERIES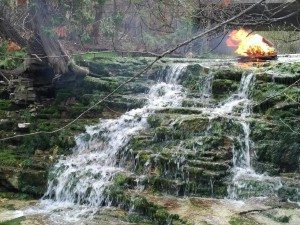 – 3 RETREATS BEING OFFERED IN 2017
Foster Mothering- a global tradition. A life giving way of being"- March 25 to 25
Milk and Honey- Re-membering the Creative ability to nurture"- April 29 to 30
Creativity out of Duality-purifying the Soul for Creative endevour-JUNE 17 & 18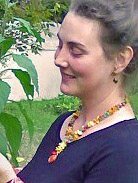 Hello Everyone! Thanks for checking out my latest news about the Hibernian Mysteries retreats at Wyldwood Sojourn.
The previous two retreats at WS presented an overview
of two key aspects of pre-Christian and early Christian Celtic feminine spirituality:
1) foster-mothering
— a path of service to young and incarnating souls in order that their soul-gift might be shared with the world,
2) creating a cauldron of life
ancient etheric technologies that balance the elements and our relationship with sacred energies and that, in turn,
facilitate our ability to conceive/receive/align the Creative Foundation of the Universe (also known as the Word).
This last in the series really looks at how we can transform our minds so that we can re-cognize
the sacred designs laid into us and into the Earth
— designs which, when activated, bring about healing and wholeness.
*******************************
A large part of our success in this venture relies on our ability to learn how to work creatively with dualities
(what in our minds creates divisions in what we perceive).
I've just returned from a trip to Ireland where I met with many people seeking to understand
the relevance and meaning of the Hybernian (north-western) Mysteries in our times.
These are the mysteries of the physical body — our own bodies and the body of the Earth; these are the mysteries of the depths.
They were faithfully carried by teachers before and after a catastrophe that changed the course of our Creation's history during the last Ice Age.
The carriers of these teachings were healers renowned throughout the ancient world.
They had strong connections with Ireland, northern Europe and the Americas.
The teachings were always passed on in secret, but they went fully 'underground' in the fifth-century of the Common Era.
Rudolf Steiner and his collaborator, Ita Wegman, once again revealed the nature of these mysteries in a series of lectures delivered in December of 1923.
us to perceive our own duality-signature — a map of our antipathies and sympathies.
What keeps us from acknowledging and recognizing others, and many aspects of our existence? What prevents us from standing in difficult places?
How might we be being invited to bring creation and goodness out of destructive situations?
Our path through duality lies not in wishing it away, but in taking the polarity deeper into our physical bodies' sites of union-energy (the heart and the womb) in connection with our minds.
We have many powerful symbols to guide us on this path.
We will be reading and exploring the implications of some of Rudolf Steiner and Ita Wegman's extensive teachings on the Hibernian Mysteries.
They called them "the last echo of a divine wisdom given to human beings by spiritual powers."
It is now up to us to carry them — and to do that by working, in all humility and consciousness, with them.
I hope you will join us!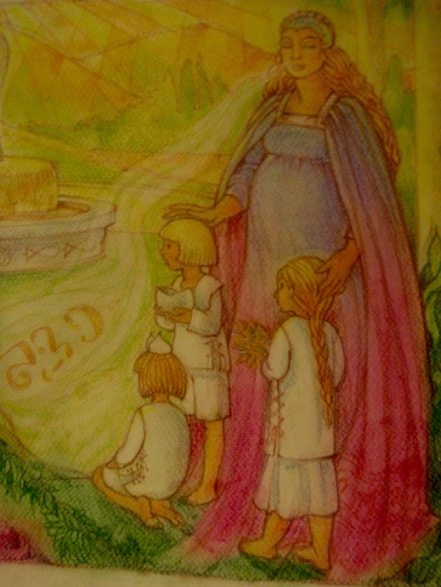 **************************************************************************************
We are looking forward to sharing this essential wisdom of the Feminine traditions, that apply to all cultures and to all ages. In attending such woman's circles, we move towards reclaiming our selves as the powerful creators we are and  taking our world leadership roles once more.
*************************************************
   INTRODUCING DEN POITRAS
RESEARCHER, ARTIST AND AUTHOR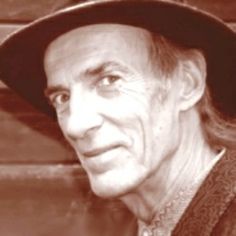 As you can see in Den's expression we have another teacher with a mischievous streak! 
Den's life seems guided by his passion to uncover the mysteries of the Divine Feminine principal in all. From an early experience with a friend who self conceived, he has devoted his study and art to its exploration.Den has written a book called "Parthenogenesis,Woman's long lost ability to self conceive".
It is in his art form were you can find his whimsical streak, by his use of found objects and garbage, which he transforms from the mundane to the profound. His subject is always referencing back to the mysteries of hidden feminine gifts of creation and of her Soulful nature.
Den is also a musician who plays guitar and flute and has a "Jug band" group that plays local  spots on the eastern seaboard of New York State.
Den believes that the world would be a better place with women leading.
Den is also a friend and colleague of Marguerite Rigoglioso and it was she who introduced him to Maureen Walton.
I look forward to my collaboration with Den in his first upcoming retreat here at Wyldwood. Be ready to engage in art making in the woods, ceremony in local caves, lots of discussion and information that will make an impact on your current accepted understandings of many things concerning woman's power.
this retreat is in June 2,3,4, 2017 see details in schedule.
NOTE!  read Den's blog so you will have a good understanding before attending;
http://My article: http://blog.world-mysteries.com/science/parthenogenesis-womens-long-lost-ability-to-self-conceive/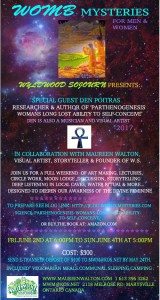 **************************************************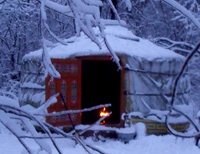 *************************************************************
Danielle Kreps presents
Plant Spirit Communication
Friday June 9th at 10am to Sunday June 11 at 4pm.
It seems fitting to introduce myself for those who may not be familiar with my Plant Spirit Healing Practice or Workshop offerings. This photo was taken at Wysdom Tree's 2016 Plant Spirit Communication Workshop (held at Soulful by Design) and I was definitely feeling gratitude to be sharing the gifts of our Green Allies who have enriched my life in so many ways.
They have helped me to heal, balance, and reclaim the hidden wounded spaces in my Spirit and have brought me into deeper relationship with this beautiful Earth Mother we are blessed to call home in this life.
*******************************************
Maureen is pleased to host Danielle for a full weekend of study and experiential practice with the plants. Wyldwood is teeming with native species that have been left undisturbed for many years.A rare opportunity.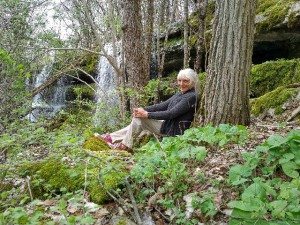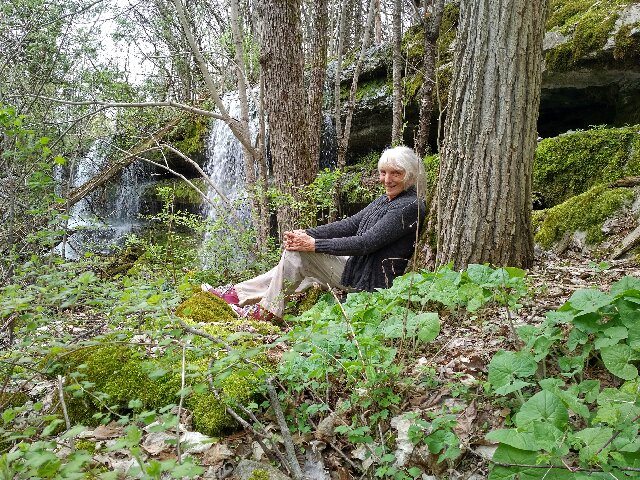 Maureen at Wyldwood beside a patch of wild ginger.
An outline will be provided on request.
For details contact Danielle at: danielle@wysdomtree.com

Deposits of $100 accepted by Danielle by May 30.
balance of $250 accepted on arrival.
************************************************
Rental Plan
Weekend retreat-$300, Fri. 7:00 pm  to  Sun.5:00 pm, vegetarian cuisine $15 per plate x 3 , max 12 guests.(15 in summer) 24 hr. retreats- $200 , vegetarian cuisine $15 per plate x 2, max 12 students(15 in summer) Day retreat- $100, vegetarian cuisine $15 per plate x 1,  max 12 guests. Evening retreat-$40,vegetarian cuisine $15 per x 1, max 15 guests
---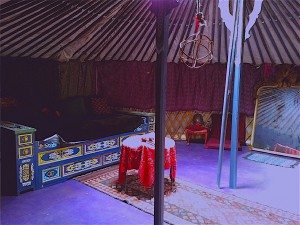 Yurt accommodation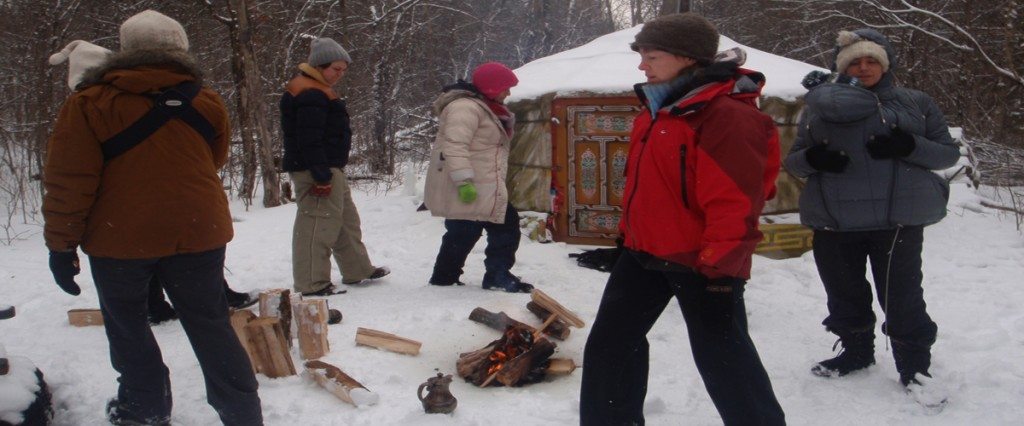 Accommodations
Wyldwood Sojourn is an intimate hideaway on two wooded acres. Maureen designed this  home to be a comfortable working space, finished with natural materials and supporting a simple life-style. It is built as a  solar dwelling & boasts of a mini solar station that meets the energy needs of her art studio and well. W.S. also has hot water on demand and a solo steamer.  Sleeping is communal in the yurt or studio. Tenting in summer is an option. Please bring your own sleeping bag and pillow. We offer cots & mats. A spare room with double bed is especially for the teacher.We accommodate 15 guests in summer and 10 in winter. Camping is also an option. Because it has its own well and septic system care must be taken to use water wisely by flushing the toilets only when necessary and by spacing quick showers 3 hours apart. An outdoor rainwater shower is under construction. (spring 2017)Please feel welcome and at home! We are open to support your Soulful connection to Nature.
---
Directions to Wyldwood Sojourn

Contact Us
Click here to visit the contact page
Click here to sign-up to receive my Newsletter