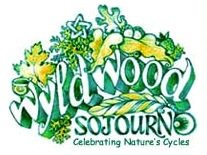 What is Wyldwood Sojourn?  …is a Sanctuary holding space for Womb Wisdom work and all things connected to the Inner Feminine Creation Energies. Maureen Walton offers this space to teachers(men & women) of all disciplines within this area of expertise .The teacher may bring up to 15 students  

We celebrate Natures Cycles. Here is a place to give back to the earth, to listen to her messages and to honor the beauty of the Darkness. Wyldwood is filled with the artist's murals . Sculptures & paintings & inspirational work is all around to inspire  and create a peaceful environment for you to awaken. All contents are hand crafted & of wood,glass, clay,wool or cotton.(no off gassing synthetic materials)The studio/home is a passive solar dwelling,located on two wooded acres with a seasonal waterfall. W.S. offers for use to its guests 2 studios, a large kitchen, and 2 bathrooms . Sleeping is communal and tenting in summer is an option. W.S. is proud of its new solar run art studio and its tankless hot water system. A solo steam sauna is also a new addition. There is one sweet feline, Aputi.
Hidden in the woods stands an authentic Mongolian felt Yurt. A special Sanctuary to restore lost Womb Traditions. A cozy interior in shades of crimson with carpets, blankets and pillows, our Moon Lodge has a wood stove to keep off the chill but never to be hot.  This is not a sweat Lodge for release work, rather it is a safe comfortable&  purified space, to call down the moon & gather in from direct source the Divine Cosmic Mother energy.
W.S. offers vegan and vegetarian meals prepared off the premises. We offer teachings for small intimate groups of 10 to 15 guests. Please return to menu & click on "contact" to ask questions or join an event.
WS is an official member of the global Red Tent movement.(our Dark lodge Sanctuary)   founded by Alisa Starkwater in 2008.
It is a rekindling of the ancient global spiritual traditions of womankind.
The circles & celebrations & teachings offered at Wyldwood Sojourn are intended to open us to restoring the inner balance, of the Feminine & Masculine Principals ..for both men & women. The sacred marriage within each of us! There is so much to re-member …so much work to do!
Re connecting with Nature & Her cycles is one way that is honoured here at WS.   "The great creative power, must return in full force & beauty to the earth & especially to the womb of women. Women must re -own & harmonize with this divine energy. Men also have a place. They must learn to open their hearts. It is our future! "  by; Cindy Lindsay
Rental Plan
Weekend retreat-$300, Fri. 7:00 pm  to  Sun.5:00 pm, vegetarian cuisine $15 per plate x 3 , max 12 guests.(17 in summer) 24 hr. retreats- $200 , vegetarian cuisine $15 per plate x 2, max 8 students(12 in summer) Day retreat- $100 , vegetarian cuisine $15 per plate x 1,  max 12 guests Evening retreat-$40,vegetarian cuisine $15 per x 1, max 12 guests
 Red Tent Essence by www.mypasana.com an anointing oil for sacred rites. This essence was inspired by the Book called the Red Tent.and by the Red Tent movement that followed.( founded by Alisa Starkweather.)  The Red Tent is the same as Moon Lodge,Dark Lodge etc. It is a temple space created by women globally to meet at their Moon Time  in  meditation and gather in divine Soul energy so to inspire and create for their community, with beauty. The moon lodge practice  was lost with the  coming patriarch.  The book focuses on  the Red Tent of middle eastern women around 4000 BCE. However  the practice continued longer in north & south america. Today there are 1000's of Red Tents were women meet to meditate & remember  and call up the lost and suppressed feminine traditions of enlightenment. this Qero teaching of the womb, is one. and to its recovery we thank Cindy Lindsey who lived with the Qero and brought their wisdom  to America.

Workshops- Seven Waves Holistic Movement and Bellydance – Roula Said
Years of devotion to the wisdom within bellydance has led to the creation of "Seven Waves Holistic Movement System". Seven Waves is simple and profound. The waves are explored as pathways through the body – sequencing up and down through the three weights of the spine and through the chakras. Using the Waves, Roula has created sequences of movement in different relationships to gravity: lying down, seated, on the side, on all-fours, standing up. These sequences awaken the body's intelligence by engaging the nervous system and the imagination in an organic and uplifting experience that increases freedom of movement, core strength, coordination, breath awareness and overall well-being. . The Seven Waves can be easily incorporated into the practice of yoga, meditation, other dance forms, and as a way to survive your computer or even your massage therapy practice…and it is the greatest primer ever for bellydance technique. Roula will teach Seven Waves as a practice unto itself and then segue into an uproariously fun foray into the wonderful world of bellydance. Roula will include a rhythm and music component to her workshop so do bring a drum (a goblet-style drum such a dumbek or djembe is ideal, but a tambourine or frame drum is great too). Finger cymbals are also welcome for those who own them. Some percussion instruments will be available to borrow. Dress to move!
 august 13 and 14 2016
WAVE WHIRL CHANT
Dear Beloveds; here is a summary of our retreat in Deseronto at St. Marks Hall.
(Because of the drought the well water was low at Wyldwood and so our caterer Edgar kindly offered to host)
The first car load of women arrived, having driven through fierce blinding rains both challenging and oh so cleansing! It was a very welcome downpour after 7 weeks of dryness. The air soon became just exquisite with freshness!
What an incredible sacred and welcoming space. How blessed to be able to do ceremony at St. Marks Hall.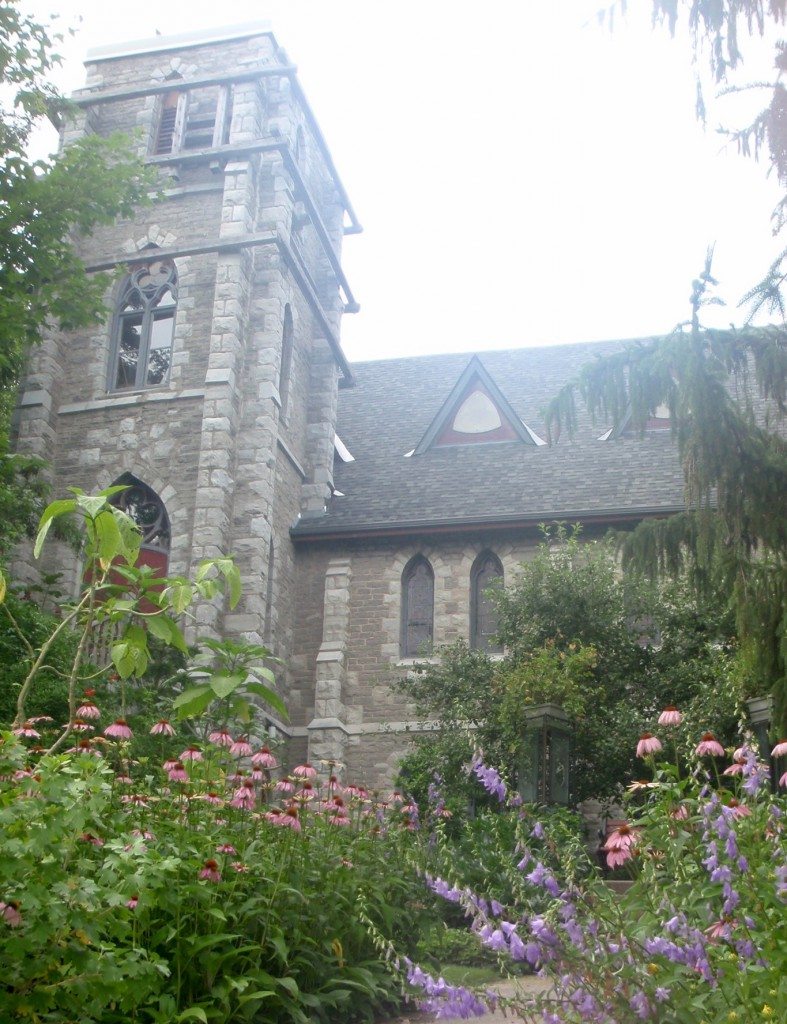 Maureen prepared a powerful and beautiful altar.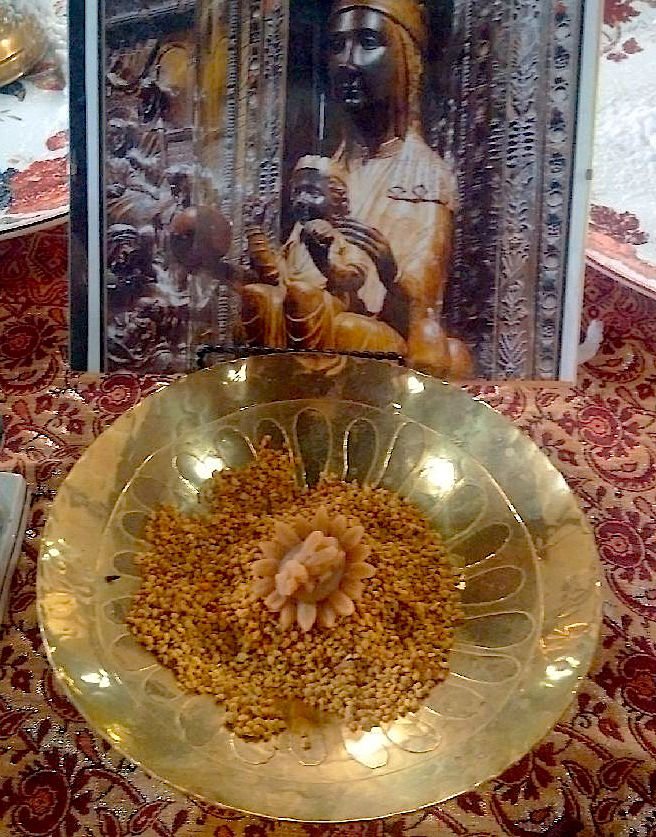 WE BEGIN!
Roula introduces the Seven Waves as Erin holds down the groove with her Daff. Waves travel from earth to heaven and from heaven to earth in variations of circles and figure eights.
The Seven Waves are a jumping off place to enter an organic and ecstatic state of "wave". We then began to explore several kinds of shimmies before the remainder of the group arrived.
THE OFFICIAL OPENING
We rang our names into the silver bowl with a gesture and an authentic expression in our voice.The group echoed the nameof each woman, along with each gesture.
*********************
It was then time to feast in the elegance and generosity of Edgar and Paul's hospitality.
food photo
After dinner we learned some of Roulas chants. SALLEE U SALLIM, RAINBOW LIGHT, WE LOVE YOU /ALLAHU, and many rounds of HAIL MARY.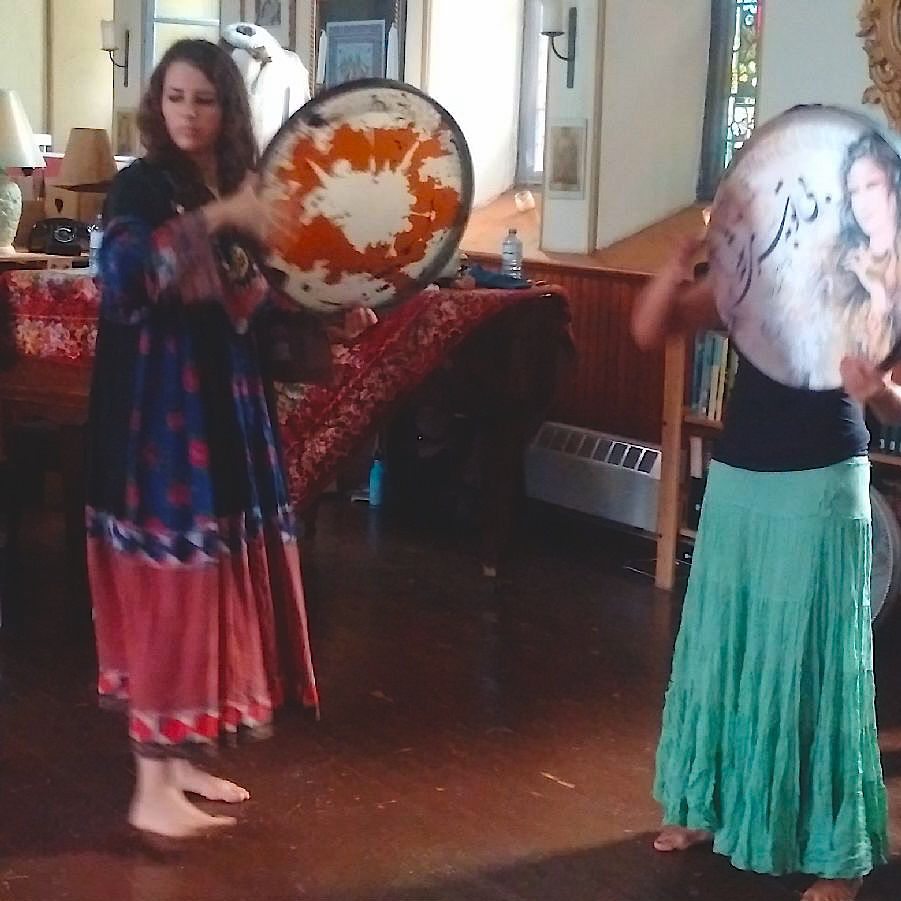 As it grew Dark Maureen led an Inca inspired meditation to empower the Womb and a Creation story from the Mohawk tradition called Sky Woman.
***********************
Protected by the Divine Darkness we descended the stairs to the garden, under the giant fir tree. Anahita shared with us a Womb healing tradition from Columbia based on a belly washing ceremony.Each with a bowl of water, we ritualistically washed our bellies  in the area of our wombs, in a spiralling and gathering direction. We sang Roula's womb healing "Spiral Song" while we washed.
shailas photo.
ZAAR !
A dive into delicious darkness to release and to make peace, through free movement. this will have to be imagined by the viewer. With Roula and Erin drumming and soundtracks of Roula singing.
*********************
We quieted the energies with the sacred tobacco Anbil, and special Sally medicine Anahita brought from Columbia.
We fell into delicious sweet sleep under the high vaulted roof of the former church.
MORNING!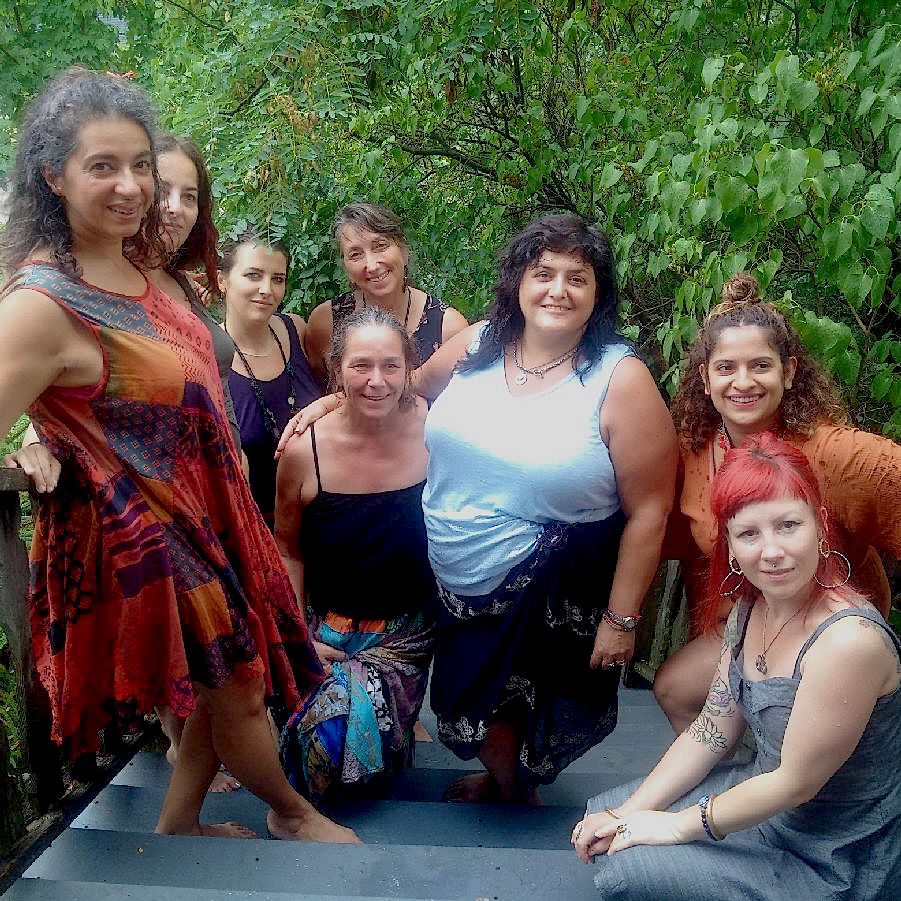 We greet the day and gather under the great spreading fir to dine on a light healthy breakfast.
****************
Maureen tells us a story of the two Virgin Birth mothers, who together with their son, created the Great Law of Peace & the Six Nations Iroquois confederacy, 1100 years ago, on this very place were we sat.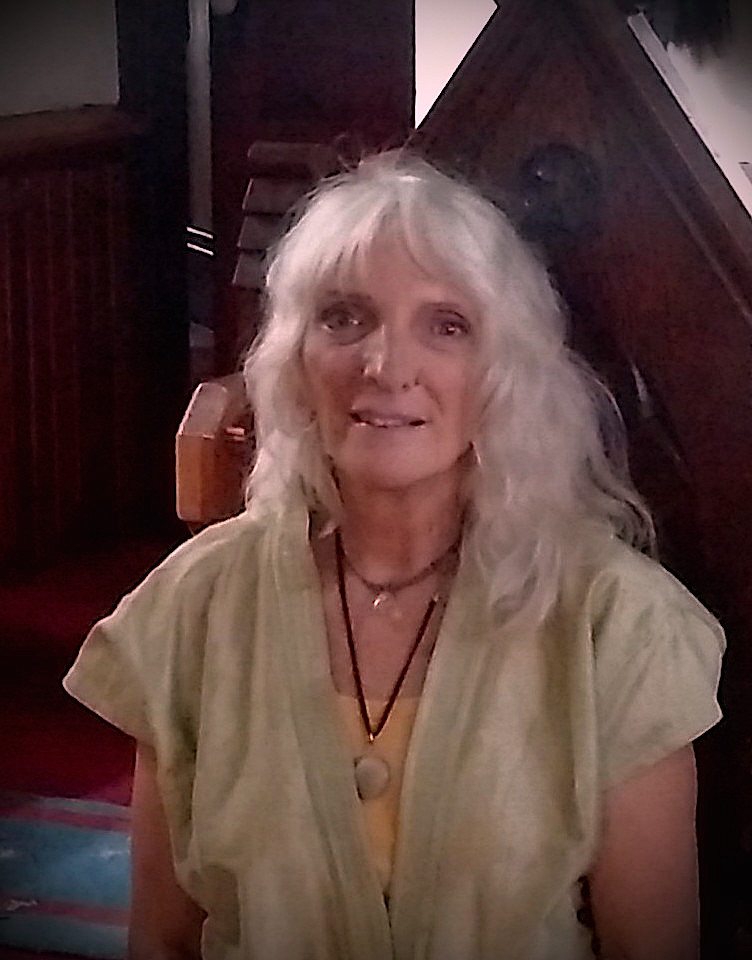 She also shared her version of the Souix story of White calf Buffalo Woman.
Dervish Whirling
We returned to the inner sanctuary to connect to the sacred Masculine and the bright light of day.We learned first the balancing exercise and some of the basic rules of of safe twirling.
We approached this Pillar of Light twirling tradition, as children do, indulging in natural impulses, rather than following rigidly a particular lineage or school.
Roula invited us to express our experience after the whirling. Mora shared a gorgeous poem painting her experience in words. I could feel her dance!
*******************
We were treated to a final Edgar Feast!
table
We closed the weekend with a circle were everyone shared their feelings of the work done.
We created a circle around Edgar and Paul and with drums, sang Salee u Sallim together in gratitude and appreciation of their masterful hospitality.
*********************************************************************************************************************************************** 
TEACHERS AT WYLDWOOD SOJOURN
Maureen Walton – founder & owner of Wyldwood Sojourn retreats, visual artist, storyteller and teacher.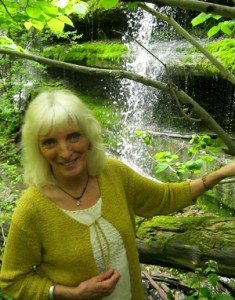 Maureen offers her studio home and woods, as a safe, quiet sanctuary for you to receive the valuable teachings of many global Divine Feminine traditions, recently surfacing after being hidden for 1000's of years. Maureen is an visual artist, storyteller and teacher of the Womb Wisdoms, inspired by the Inca. She collaborates with the teachers she invites.  Maureen creates full and diverse learning opportunity through experiential activities. Holding ceremony at the Birthplace of the Huron Peacemakers, is one. Drumming in sacred caves and in the Gosippi river, close by is another. Maureen has supported herself as a mural artist for 15 years and also has a background in animation and illustration and in the fine arts.  She traveled extensively in earlier years, and gave birth to her daughter while living in the Netsilingmiut community of Kugarruk.
Margeurite Rigoglioso PHD, teacher, author, Seven Sisters Mystery School. San Fransisco. USA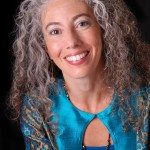 We are honoured to have Marguerite  travel each year to W.S. from San Fransisco, to share her new discoveries and insights, in the world of  Feminine Spirituality. Marguerite dedicates herself to encouraging women to learn for themselves the wisdom of the Priestess Path and claim their own gifts of the power of the Womb. She travels world wide to teach and offers intensive courses in her home town. Marguerite has written 3 books on Divine Birth, in the Greek tradition and is continually pushing boundaries and reading against the grain in 'his story' to reclaim hidden truths of the Divine Feminine Principal, that have been distorted and dismissed.
Karen Holmes -poet, singer, spiritual guide and councillor.
 Karen returns to W.S. after leading a series of 8 retreats in 2011 to honour, with ceremony, the yearly sacred turning points of the earth. We are excited to have her back, to offer new wisdom from her studies and traveling experiences in Ireland, and New Zealand, that opened her to the Druid Priestess traditions, as well as the mysteries of Hybernia and a more Feminine understanding of early Christian mysteries. She also has a diverse background in R. Stiener's philosophies. Karen is founder of Anam Cara Spiritual Centre near Kingston.On. In her retreats here she engages us in writing, altar making and other hands on work to deepen our connection to the more intellectual teachings she offers. She also collaborates with Maureen. She has 3 published books of poetry and is currently composing a fourth.
 Roula Said- Dancer, musician and vocalist.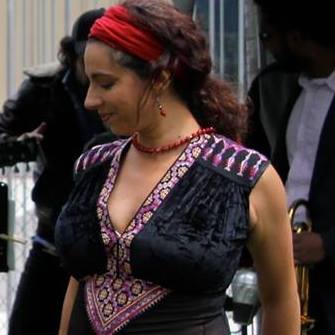 Explore the wisdom of the feminine through the ancient lens of bellydance as interpreted and re-imagined by modern day master instructor, Roula Said. Roula Said is a dancer, musician and vocalist. She has devoted the last 20 years to studying, teaching, choreographing and performing Middle eastern dance and music. Her journey has taken her into realms of artistic exploration and personal healing that transcend any one culture. Roula has a true gift for distilling the essence of bellydance.Roula has taught at W.S. for 3 years and her dance is key to open and shift our bodies to accept and remember our Wombs as divine!
Edgar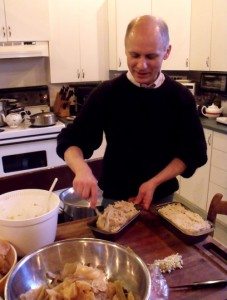 Edgar is central to the success of Wyldwood Sojourn in his passion for designing theme foods that are nutritious, tasty and truly sensuous. His feasts are always well received and always draw ooohs & ahhhs for both the flavors & the beautiful visual presentations. At Wyldwood to dine together is another important aspect of sacred activity…whether Middle Eastern, Peruvian, Caribbean or European influenced, they are all vegetarian meals, full of protein & freshness. Edgar draws from his own garden or from the local farmers markets to shop and creates everything from "scratch" in his own kitchen.
Cindy Lindsay, Spiritual Teacher of the Holy Womb Tradition. Soul healer and clairvoyant. She taught at W.S. in the summer of 2010.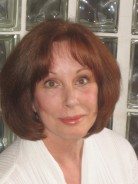 Cindy is a graduate of Soul University in Penukonda, India. She is a certified teacher & healer in the practices of the Holy Womb Chakra traditions, from pre-Hindu teachings, as well as from Hindu teachings. It holds deep reverence for the Divine Mother and for the Creation Energies of the Feminine. Her teacher was Swami Kaleshwar (founder) She studied with him for 12 years. Prior to this Cindy trained for 10 years with the Qero Indians of Peru. This Inca tradition was also of the Power of the Womb & of the Blood Masteries. It is a Shamanic practice that survived the Spanish invasion of the 1500's, by being kept hidden until recently (this is truly one of the Sacred teachings of the old world). At our invitation, Cindy travelled to Wyldwood in 2010, to teach the Inca Womb Traditions to a small group of 10 women. We are honoured to hold this wisdom. Cindy now practices only the Indian teachings. She continues to be one of my teachers.
---