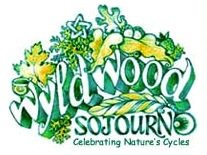 What is Wyldwood Sojourn?
 … a Sanctuary holding space for different streams of Womb Wisdom and all things connected to re claiming the Inner Feminine Creation Energies.
  What is Maureen's mission for Wyldwood?
As well as hosting 2 retreats per year, that delve into these topics mentioned, WS hosts a core group of artists and authors under the umbrella of spiritual feminism biannually. To compliment the woman's  moon lodge now in its 10th year, we encourage the forming of a mens circle.                                                                         
**********************
New direction at Wyldwood Sojourn!
 Biannual meeting of WS teachers and committed researchers!
We work to re claim the natural inner creation technologies of the female body and the womb.  
We meet in real time in sacred circle in the woods, by the waterfall or in the Dark Moon Lodge.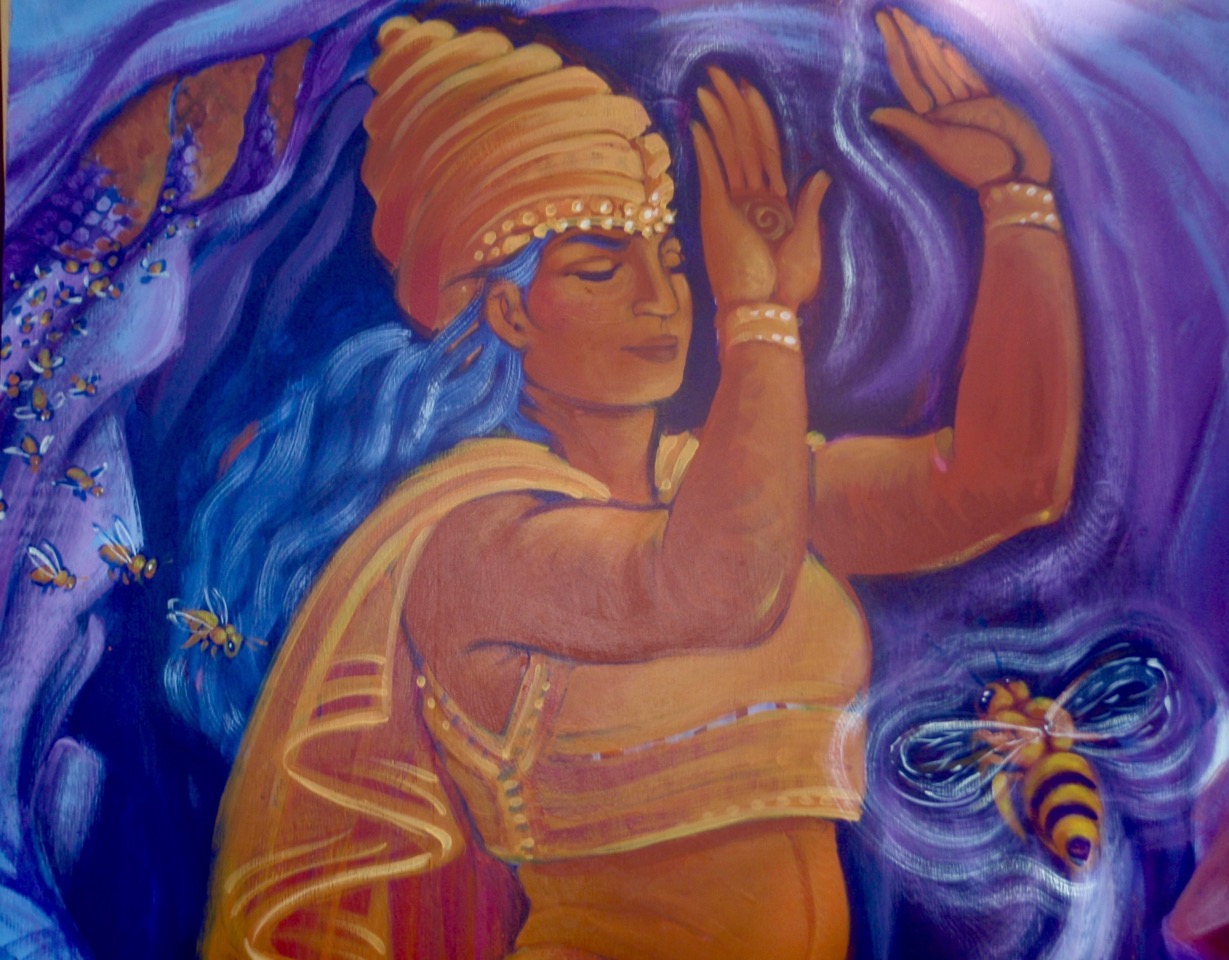 In circle we re- member lost and intentionally hidden truths, codes and keys. We are unlocking mysteries.
 changing the language and finding truth in their opposites.
The actual work deals with re learning the Blood Masteries, the inner womb technologies,
and the art of self conceiving, namely parthenogenesis.
We explore the history of the Moon Temples and the sacred ancient Earth Mysteries .
Our aim is to balance the energies of the masculine and feminine principals with in us
to support the blossoming of the New Earth.

Wyldwood is intended as a resource centre and safe zone
for meditation and to conjure up these sacred feminine truths in a natural magical setting.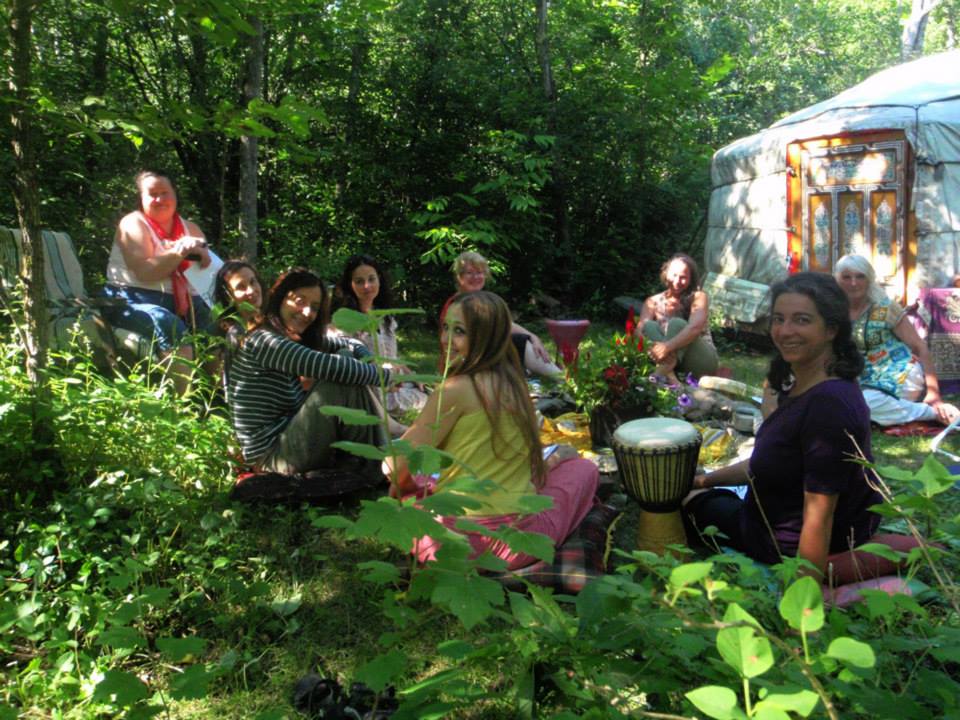 If this work interests you and you have a background in any of these paths, please contact Maureen .
We are open to listen and to share.
This group agrees to share the costs of meeting, including meals and any materials needed for art making or ceremony.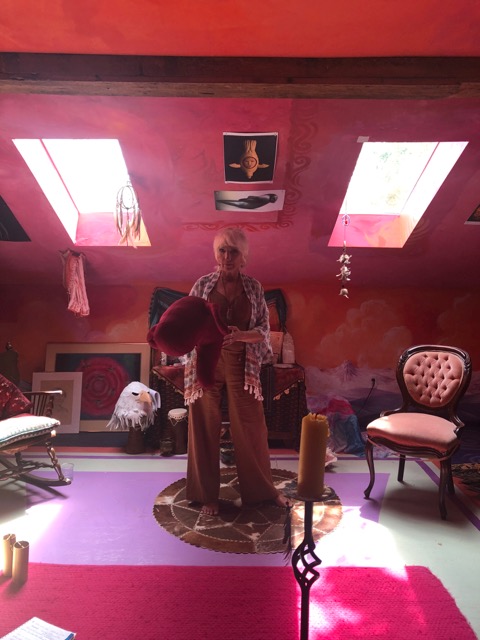 ***********************
Details and more information about this centre.
 

Until we have cleansed the womb and healed it from historical and person abuse,
we cannot access these practices.
These traditions were practiced by trained priestesses/shaman
 globally in pre patriarchal times.
Maureen hosts healers from different womb wisdom traditions, to aid us in remembering .
Not until we have healed some, can we really receive the Womb Wisdom of the Inca Luminous structure
and of the Indian Holy Womb Chakra.
These teachings show us how to direct and cultivate our womb energies
so that we create and self conceive on a extremely deep level.
A level that has not been known of since pre patriarchal times.  
When we realize this and how close we are to reclaiming this ability, we will see we are a step away!
 Balance will be restored and the patriarchy will just dissolve .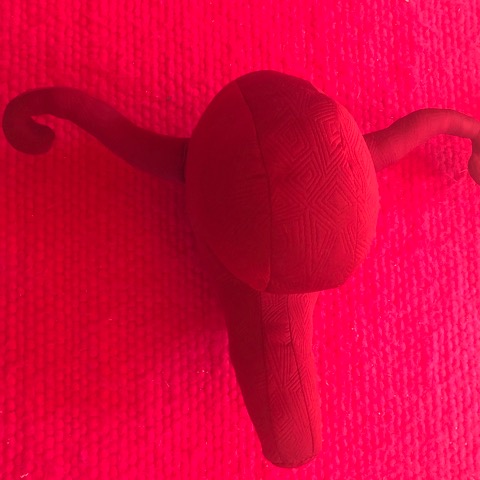 Wyldwood is filled with the artist's murals, sculptures, paintings & inspirational work.
A peaceful environment to support your awakening.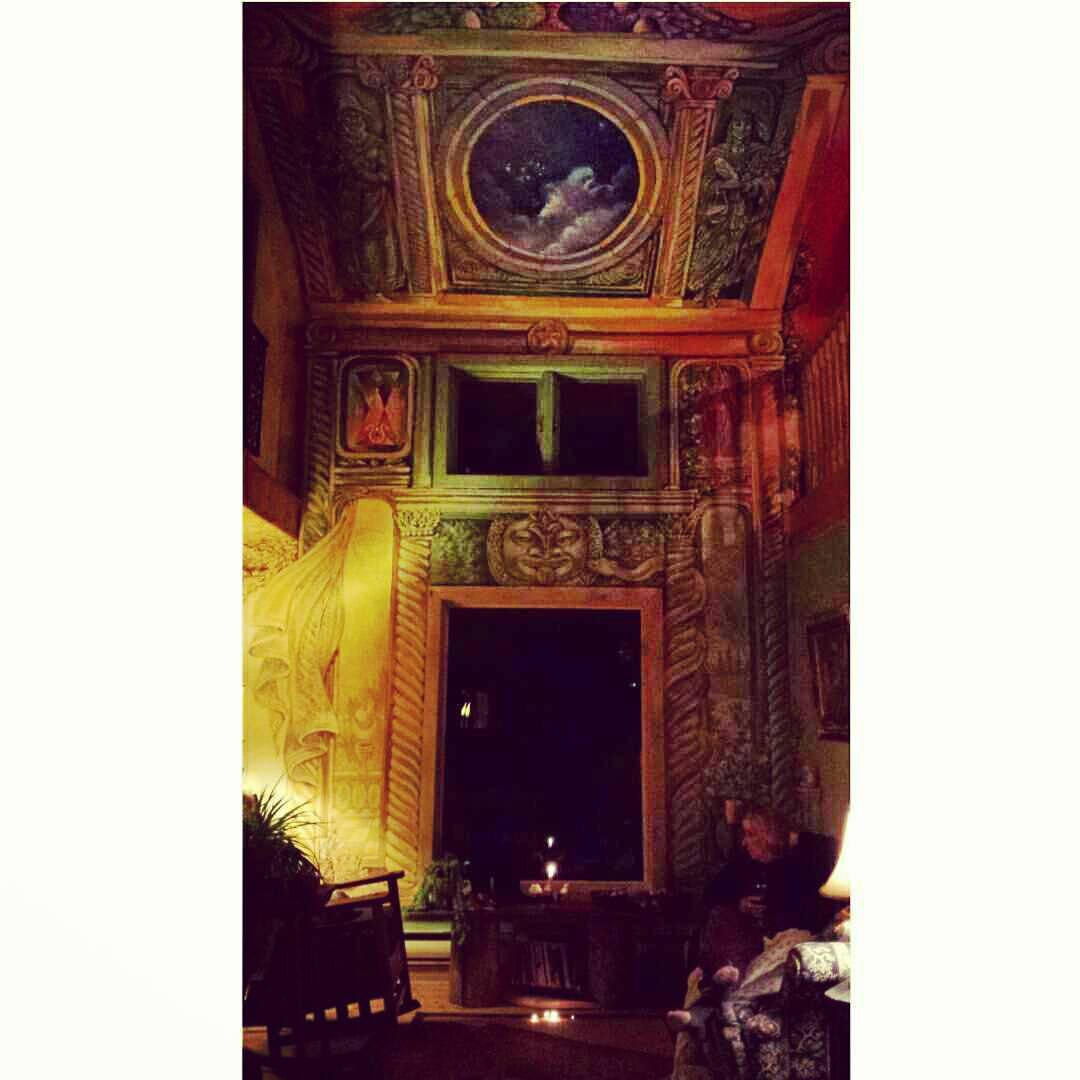 All contents are hand crafted & of wood, glass, clay, wool or cotton.(no off gassing synthetic materials)
The studio/home is a passive solar dwelling, located on two wooded acres with a seasonal waterfall.
W.S. offers for use to its guests 2 studios, kitchen, 2 bathrooms and 2 authentic Mongolian yurts.
Sleeping is communal and tenting in summer is an option.
A solar run art studio, tankless hot water system & a solo steam sauna. There is one sweet feline, Aputi.
**************************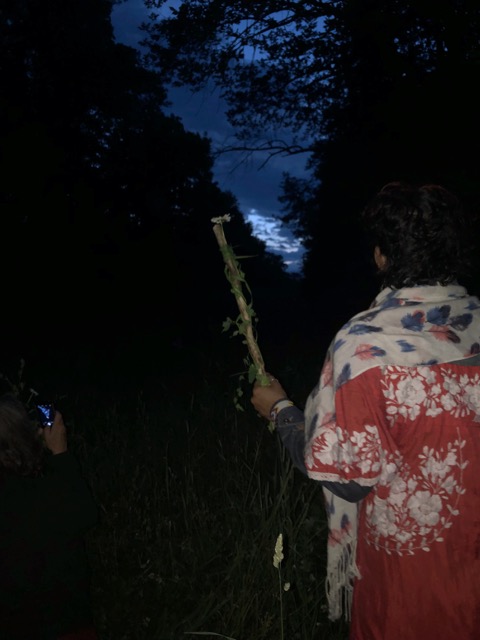 Wyldwood Sojourn is situated on the Sacred Lands
of the Huron Virgin Birth Mothers &
 the Iroquois Peacemakers,
who brought us their mission of Peace 1000 years ago.
It is called the Great Law of Peace.
Maureen was attracted to this land to build a sanctuary,
With each retreat we open with a dedication to Kahetosuk and her mother Kaheliokaha.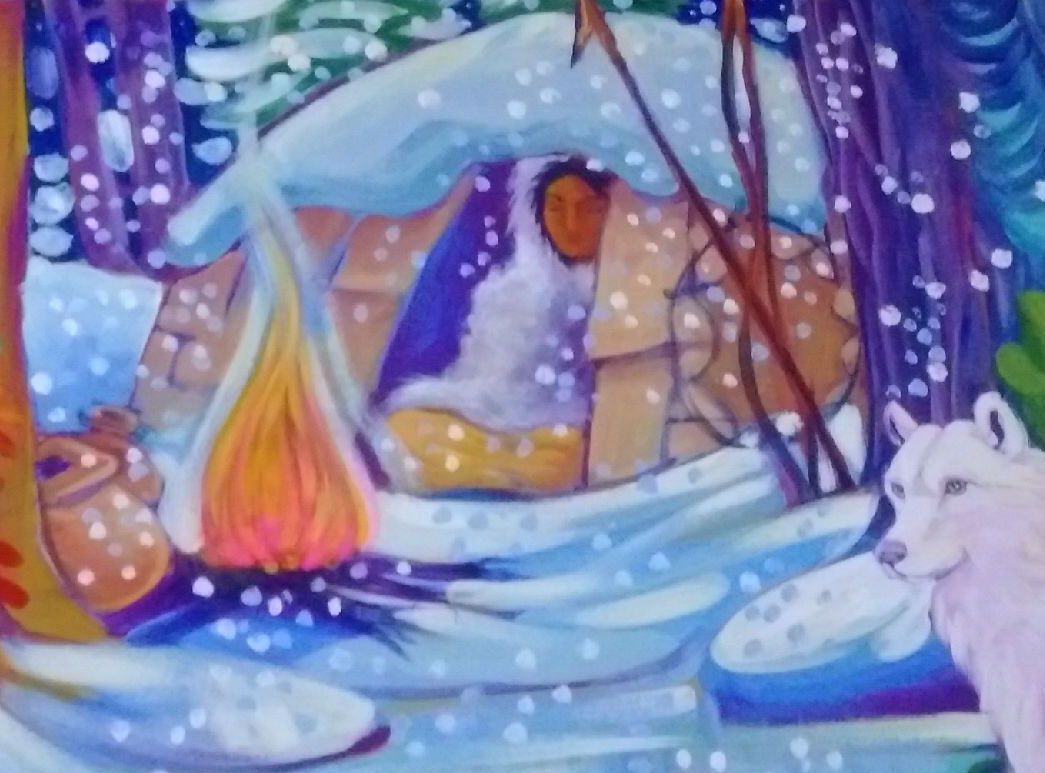 ***********
The 2 foundational yantas from pre patriarchal times.
  Holy Womb Chakra'
as re discovered by Swami Kaleshwar of Soul University, 20 years ago.
 Depicted here is an ancient drawing etched on palm leaves.
Count the chakras! There are 8!!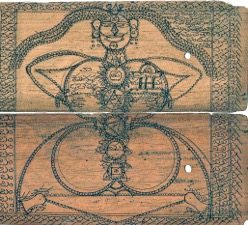 Please consider both these images as sacred.
 The Yantra below is of the actual sound vibration of the womb,
 complete with mantras.  
According to Swami Kaleshawar it is the lost chakra of the powerful Womb.
It is located above and behind the womb and is a portal to import direct source Soul energies into the womb space.
Once cleared and pulsing in awareness once more, it will aid us in reaching superconsciousness.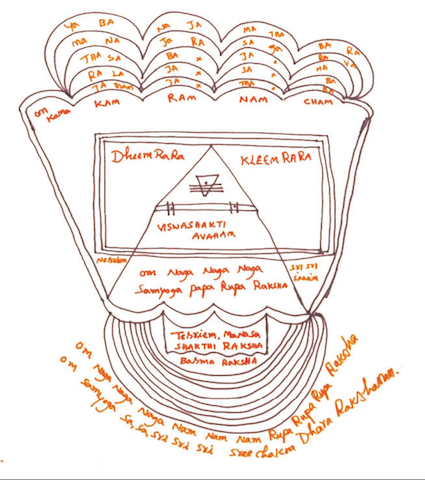 INCA Luminous Structure
joining heart and womb and much more.
Both these Yantras, as all yantras, are 2 dimensional diagrams depicting
the full living 3 dimensional sacred geometry within us all.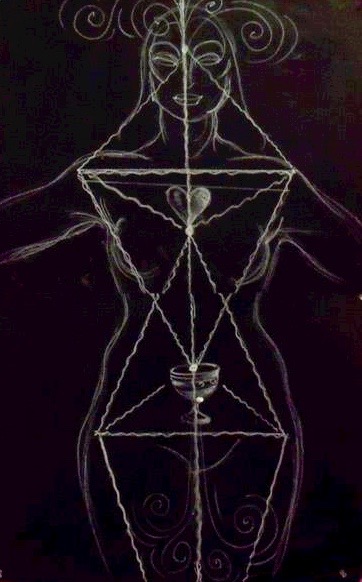 Note that the great Sri Yantra below
contains the 2 triangles of the Luminous structure,
v

alidating how universal this wisdom is.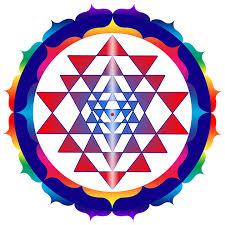 Earth Womb Lodge and Cosmic Womb Lodge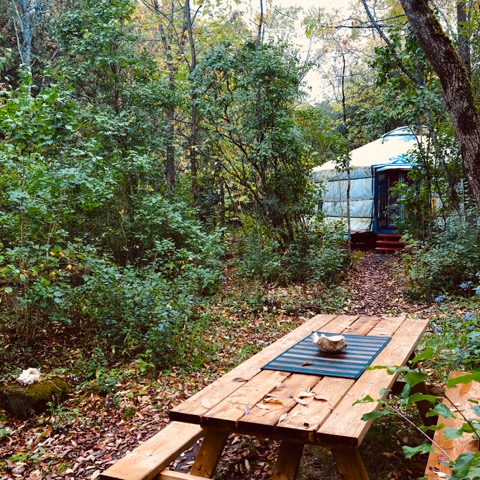 Hidden in the woods stand two authentic Mongolian felt Yurts.
The tiny Earth Womb Lodge Sanctuary has a comfortable cozy interior
in shades of crimson with carpets, blankets and pillows.
It has a wood stove to keep off the chill but never to be hot.
 This is not a sweat Lodge for release work, rather it is a safe cosy sanctuary dedicated
 to the purpose of receiving, gathering and attaching to Divine Cosmic Mother energy.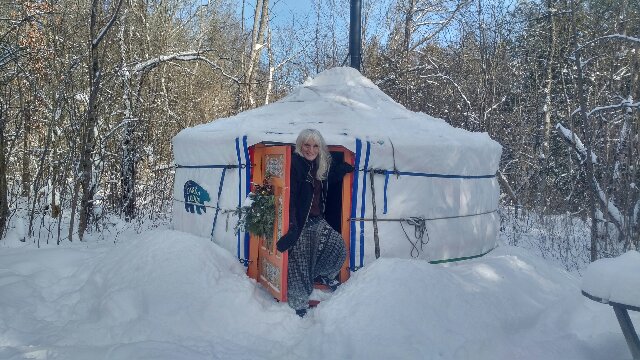 The larger Cosmic Lodge offers a sanctuary for circle work and for sleeping accommodation.
It is large and spacious and suitable for dancing and ceremony.
We are encouraging a 'mens circle' to use this space also.
Its circular shape and soft construction lends perfectly to support our inner feminine work.

It is hidden in the trees on the limestone ridge.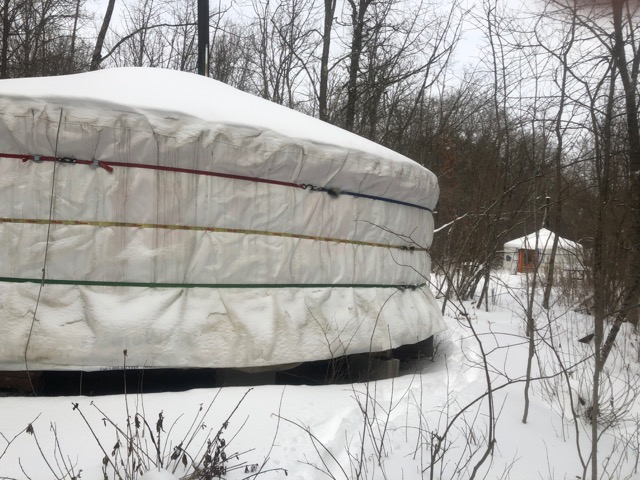 Elegant Catered Vegan Meals
W.S. offers vegan and vegetarian meals prepared off the premises by Chef Chris of P.E.C.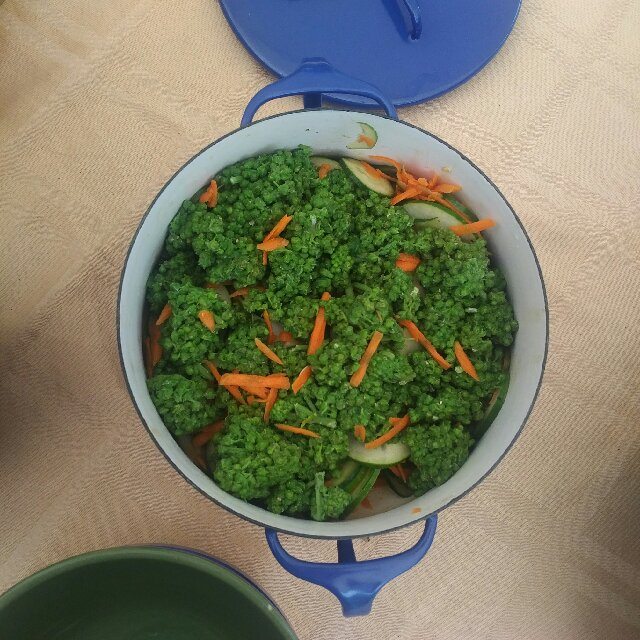 milkweed flower salad.
****************************
It is a rekindling of the ancient global spiritual traditions of womankind
re imagined and designed for our time.
The circles & celebrations, teachings and hands on art projects offered at Wyldwood Sojourn
are intended to open us to restore the balance of the Feminine & Masculine Principals within
…for both men & women. Re kindling the sacred marriage within!
There is so much to re-member …so much work to do!
  "The great creative power,
must return in full force & beauty to the earth & especially to the womb of women!
Women must re -own & harmonize with this divine energy. Men also have a place.
They must learn to open their hearts. It is our future! "
 

 by; Cindy Lindsay
***********************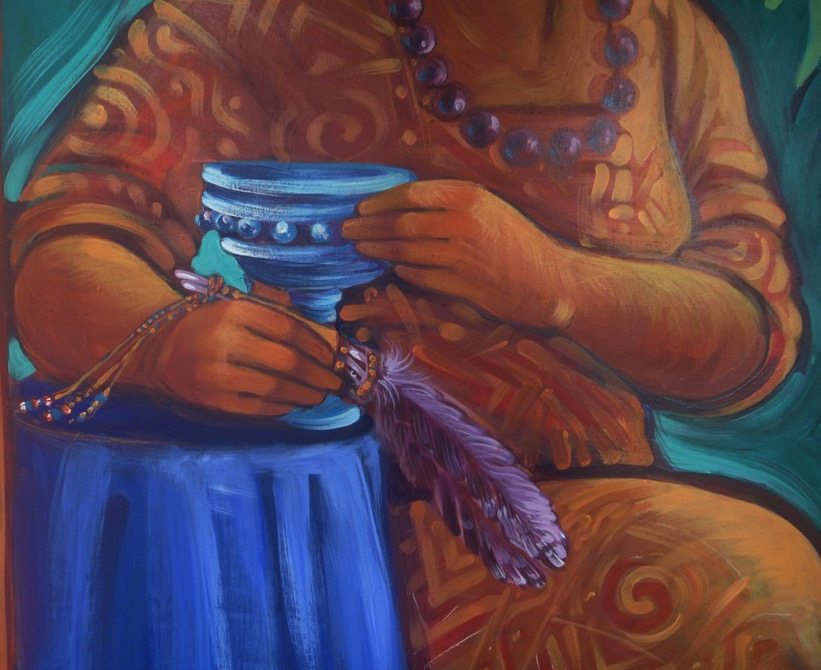 Rental Plan
Weekend retreat-$250, Fri. 7:00 pm  to  Sun.5:00 pm, vegetarian cuisine $18 per plate x 3 , max 11 guests.(14 in summer)
24 hr. retreats- $150 , vegetarian cuisine $18 per plate x 2, max 8 students(11 in summer)
Day retreat- $100 , vegetarian cuisine $18 per plate x 1,  max 16 guests
Evening retreat- $40,vegetarian cuisine $18 per x 1, max 16 guests

******************************************************
Maureen Walton-O'Brien – founder & owner of Wyldwood Sojourn, visual artist, storyteller and teacher.

Cindy Lindsay, Spiritual Teacher of the Holy Womb Tradition.
PHD Soul healer and clairvoyant. She taught at W.S. in the summer of 2010.

Cindy is a graduate of Soul University in Penukonda, India. She is a certified teacher & healer in the practices of the Holy Womb Chakra traditions, from pre-Hindu teachings. It holds deep reverence for the Divine Mother and for the Creation Energies of the Feminine. Her teacher was Swami Kaleshwar (founder) She studied with him for 10 years. Prior to this Cindy trained for 10 years with the Qero Indians of Peru. This Inca tradition was also a tradition of the Power of the Womb . 
It is a Shamanic practice that survived the Spanish invasion of the 1500's, by being kept hidden until the 1960's (this is truly one of the Sacred teachings of the old world).
From this Qero (Inca)relationship she evolved the Blood Masteries workbook. At our invitation, Cindy travelled to Wyldwood in 2010, to teach the Inca Womb Traditions to a small group of 10 women. We are honoured to hold this wisdom. 
---