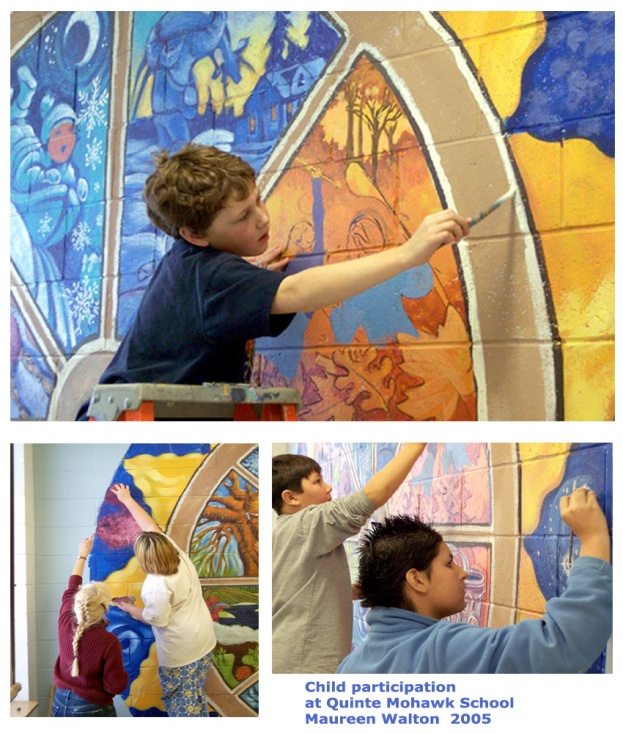 This is to express my gratitude to all the students & teachers as well as to principal Kathleen Manderville, and more recently Vice-principal Joe Brant, for giving me the opportunity to interpret these inspiring teaching stories, visually, on your school walls. Stories that have been passed down through the ages.
It is so easy to "let it flow" when I have been made to feel so welcome! From the sketchy beginnings of the process to the final layering, I have enjoyed and learned from your questions, requests, ideas, feedback, guidance, curiosity and enthusiasm.  It was a great experience to work one to one with the kids teaching them scaling, stylizing, composition and blocking.
I am a natural storyteller (both visually & orally) and a draftswoman. My early education was spent immersing myself in the original cultures of the Melanesians, Indonesians, Australians and Inuit. As an artist I gravitated to the stories and tools of the Shaman of these cultures. I consider them my teachers. Thus my view of the world, came to be felt as a "child of the planet" and not of any nation. Therefore my interpretations are neutral. It was my intention as I worked, that these murals hold the most positive and pure message, no matter what verbal version is laid over them.
Seeing the beauty of a colour emerge, by finding its perfect complement, is pure alchemical magic. I was happy to share this with students, as well as other techniques, such as creating movement and vitality by using repeating spiraling strokes in large free gestures. In the final work, these details make the power of the story itself shine.
It has been a truly soulful experience and we are all enriched by these stories.
She: kon ;   Maureen
---