Dear community- Here is the charming 'doc.'  made for me by Earth Dance studio. It gives you a clear picture of what happens within this precious little sanctuary of Wyldwood Sojourn.
****************
INTRODUCING A COSMIC LODGE RENTAL GETAWAY !
CONTACT MAUREEN AT MWM@KOS.NET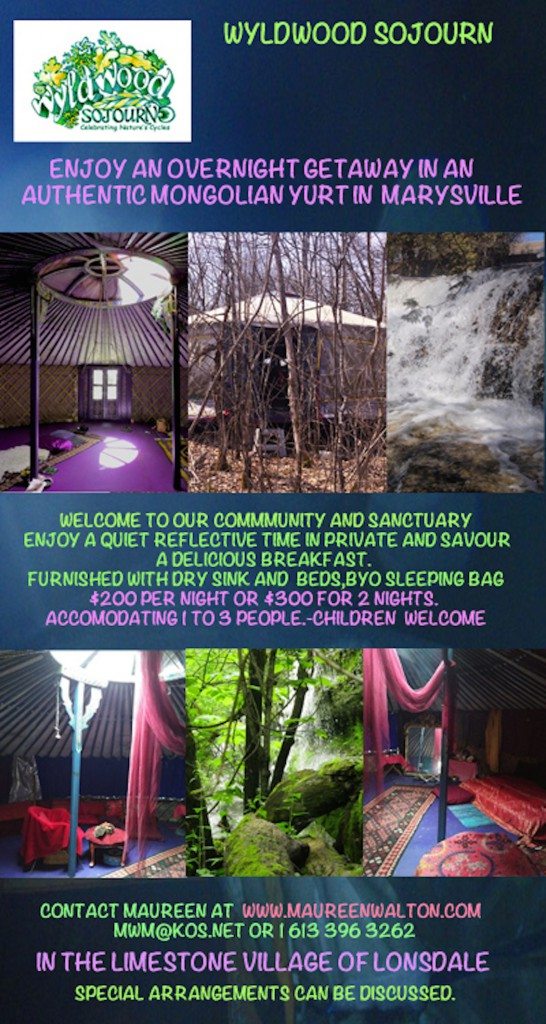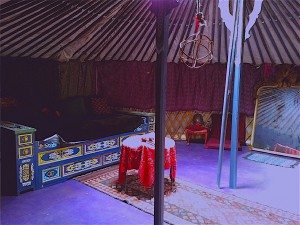 **************************** 
 Welcome to the Spirit of
MAUREEN WALTON

Maureen Walton began her mural career in 2001 Her mentor was Ian Leventhal of Toronto. From Ian, Maureen learned many tricks of the trade. Maureen has been an artist all her life practicing in many fields. See her Bio. Her first call to a school was in 2003 in Scarborough with Principal Karen Peach. In 2004 Maureen reclaimed her country home in Hastings County.  She was asked by the principal Kathleen Manderville of the Tyendinaga Quinte Mohawk school nearby, to paint the Three Sisters teaching, with direction from the traditional community. The result was successful. Maureen was asked to co-create many of the stories and teachings in the school halls, on ceilings and in the gymnasium. Later in 2013 the new principal, Joe Brant, asked Maureen to continue painting with the epic story of the Peacemaker. Maureen wondered if  her background, being non native (to this continent) would be an issue and the response was this: You can paint, you have a set of specific skills to teach to our artists, and you follow our direction and guidance concerning the content, thats all that matters.

Maureen found a way to mentor the children two by two through the whole process from underpainting to finishing. She sat in storytelling circles and drumming circles for inspiration. Maureen has a natural ability to express in large scale. She remains neutral and unbiased in her interpretations. She is honoured to bring these important teachings to life, in full colour. These murals are used as teaching tools.

Maureen continues to paint many different subjects in many schools in both Public and Catholic boards, in Hastings, Kingston, in the Algonquin district and in Toronto. Kevin Reed, Paul Latchford, Shawn MacDonald and Carmela Cucchi are Education administrators who support her work. She has recently (in 2017) painted for the Kingston Katarakwi students and was asked by Joe Brown of Tyendinaga to co-create with students, a native content mural at Moira Secondary in Belleville. Maureen is currently painting for a catholic school in Kingston, the story of St. Teresa of Calcutta. She is honoured to do so. Maureen hopes that a few keen students, that she is mentoring, will step into her shoes one day. Click here to learn more about Maureen's murals.

The mission of this small retreat centre is to provide a peaceful safe sanctuary for uncovering lost feminine, spiritual traditions that have languished forgotten the world over. We have grown into a Womb Wisdom School. Maureen hosts teachers carrying many different streams of womb wisdom.They bring their newest research to W.S. These little known traditions hidden in all nature based cultures, are recovered through studying mythology as real history, learning to read against the grain, between the lines and by emersing deeply with the 'Divine Source' through dream and meditation. Click here to learn the details of what these feminine gifts are! Watch this video and help Wyldwood Sojourn gently expand its  facilities. As women remember and embody their true purpose and fulfil their unique gifts of creation, we will naturally expand beyond limitations, thus restoring  balance and harmony within the genders and the world.
Sitemap