Posted:
April 7th, 2015 |
Author:
Maureen Walton
|
Filed under:
Murals
|
Tags:
Maureen Walton's murals
,
Monique Alore
,
murals
,
public murals
|
No Comments »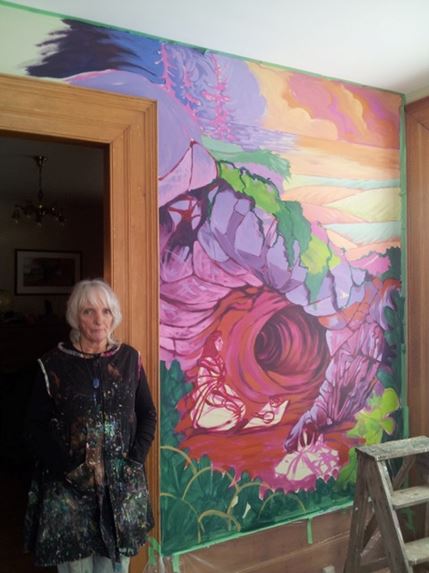 Very excited about this work in progress- a perfect fit for me! My friend, Monique Alore, a powerful Shamanic healer, has asked me to co- create with her a mural in her healing room, to support her work with clients.

Wanting to reflect both the inner and outer life, I painted her a cross section of a cave interior on the lower left and a vista of fields and lakes on the upper right.  Within the cave (as womb) sits Monique in contemplation, creating her world! Roaming above are her power animals. The colors also reflect the inner and outer worlds.

Deep enriched colors within, and bright sparkling colors outside.

We also designed this to include a "Tromp'liel" aspect. The cave entrance will be adorned with a 3D skull mask (created by another artist and gifted to Monique in exchange for her services).  I look forward to posting finished photos of this mural as soon as I have finished it.